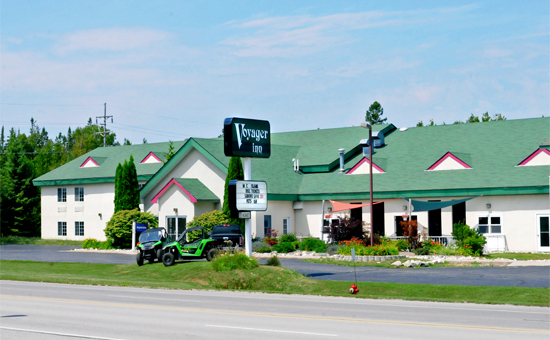 Voyager Inn of St. Ignace, Michigan
"Gateway to the Straits of Mackinac!"

The Perfect UP Location
The Voyager Inn is your, "Gateway to the Straits of Mackinac!" We take pride in our independently owned Upper Peninsula Hotel with all the amenities of big chain hotels. The Voyager Inn of St. Ignace, Michigan is much more reasonably priced than the competition, which allows you, your friends and family to expand your budget to enjoy more of our St. Ignace Attractions and things to do. Our perfect UP location, just off the Mackinac Bridge is a superb choice for all your lodging needs. Guests can conveniently visit attractions, museums, shops, sporting events, and the Mackinac Island without breaking your budget.

Book Now, Save 10% Discount with the Promo Code: direct10
♦ Click here & enter your code.

Upper Peninsula Hotel Accommodations & Amenities
The Voyager inn of St. Ignace, MI offers a variety of room types including: deluxe king, pool side, double & queen beds, and "choice" senior rooms. Upper Peninsula guests of the Voyager Inn can look forward to a long list of great amenities which include a continental breakfast, indoor pool, hot tub, high-speed internet, free shuttle to the ferry and our local UP casino, free parking, large parking lot for tour buses and trailers in the back, outdoor patio, and updated rooms with new beds, refrigerators, microwaves, door locks, and TVs. Our Upper Peninsula Hotel is "Pet Friendly".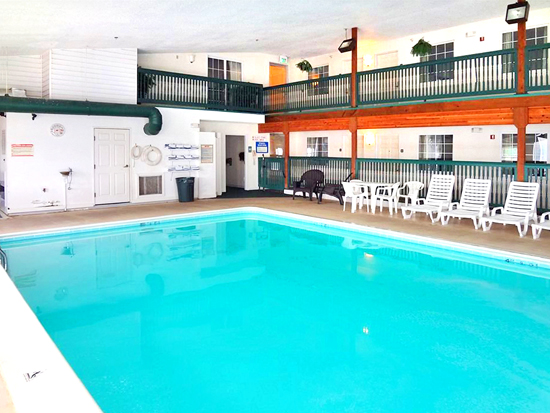 Relaxing Upper Peninsula Lodging
Our large indoor heated pool comes with plenty of seating for you, your friends and family. We also have a great whirlpool spa to relax in within the same area. Pool side rooms are available for your convenience. We also offer "Pet Friendly" accommodations. For a small nightly fee (per pet), your best friend can also enjoy a vacation.

We are nearby to St. Ignace Restaurants, shopping, Mackinaw City, Mackinaw City's Fort Michilimackinac, St. Ignace Ferries to and from Mackinac Island, the Mystery Spot, recreational opportunities, along with great views of the Mackinac Bridge.

Welcoming Environment and Staff
The entire staff welcomes you to stay at the Voyager Inn, our warm and inviting lobby complete with a fireplace will make you feel right at home. We accept the following Credit Cards: Visa, Master Card, Discover, American Express

"Our keys and paperwork were ready and waiting for us the minute we arrived. People were very friendly and accommodating and the room was clean and modern. Beds were very comfortable and the breakfast area was clean and well stocked. Great value!" —Dale E, Trip Advisor

"Easy to find as its just off the exit from I-75 and just on top of the hill from downtown. The exterior of the building is kept up and presentable and the inside well kept. The rooms are updated and clean the staff was friendly. There's an indoor pool with hot tub open year around (as we've been there snowmobiling as well). There are pool side rooms pool and there's rooms with whirlpool tubs. We are repeat customers with positive experiences each time we've stayed. In short if you're looking well kept room for a good rate we recommend the Voyager Inn." —Edsel B, Trip Advisor